Ampersand Aquabord is nice. 2" deep cradled Aquabord is even nicer! You don't need to mat it, just spray it with a fixative and varnish. You don't even need to frame it. Stain the sides any color you want and it's ready to be put on a wall. The painting above was born partly of the client's wish for a smaller size and partly out of my desire to try the cradled Aquabord.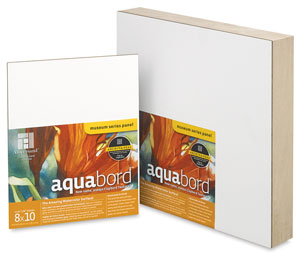 Reference photo: their very attractive corner of the yard. I love the windmill but I also felt that it would compete for attention with the pot. And, since we decided on a square format Aquabord, I would have been difficult to squeeze it into the composition.
As in most of my commissions, I spent some time doing preliminary sketches.
I skipped the drawing - I typically don't feel the need for pencil lines unless the subject is complex. For the first time ever, I noticed that on the Aquabord packaging, they recommend washing it with clean water before painting. So I did. It bubbled a bit (which it is supposed to do) and behaved much more wet-into-wet than I expected. If this last phrase sounds odd to you, I just mean that the paint spread and mingled better.
That's what the 2" deep cradle looks like with a 6x6" board. I like it.
Next layer: trying to keep the flow and spontaneity of the first wash while adding a lot of detail. Not easy!